HeatSign Fiber Laser Marking Machine 20w For Permanent Metal Parts Marking and Engraving
Fiber Laser marking machine adopts the third generation (the most advanced) solid-state fiber laser to create the superfine effect of marking. This model is a compact structure, no pollution, no optical power coupling loss, air cooling, high efficiency and stability, its life is more than 100000 hours. HS-FL20 Fiber Laser Marker output power:20W. The software is easy to use and can work with any content such as graphics, charters, letters, barcodes, QR codes, etc. It can widely be used in various metal and some non-metallic surfaces to create a permanent mark.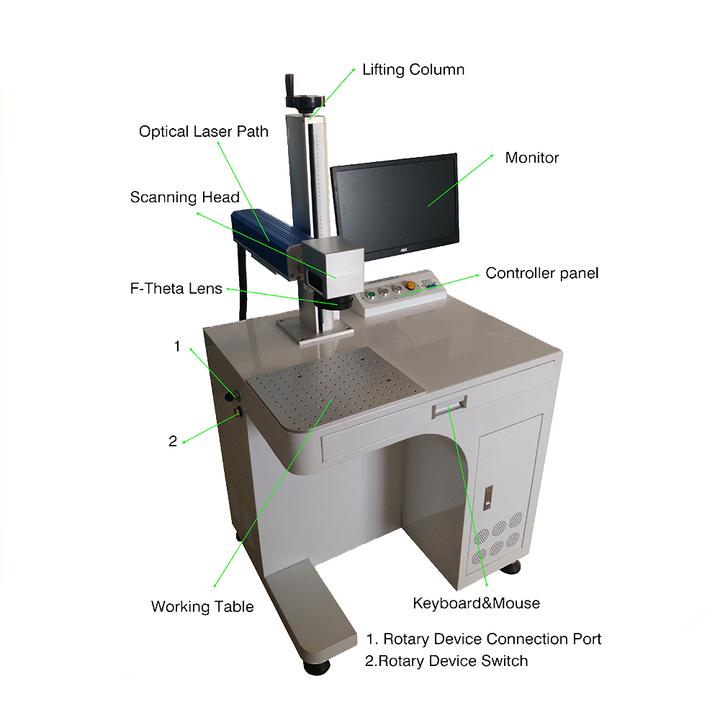 Laser Machine Advantages
1.High speed galvo scanner.Fast Marking Speed
2.High precision with repetition as tiny as 0.2mm.
3.Machine is easy to operate and use
4.Advanced Air Cooling System, the laser marking system is no need maintenance
5.No consumables: Fiber laser machine can be used for 8-10 years without any consumables.
6.Low power consumption: low cost, only 0.5kw per hour.
Technical Parameters
Laser Type: Fiber Laser
Laser output power: 20W
Marking area: 100mm x 100mm
Laser Wavelength:1064nm
Max marking depth:≤0.2mm
Marking speed: ≤7000mm/s
Repeatability accuracy:±0.002mm
Control software: EZCAD
Supply Voltage:220V/50Hz or 110V 60HZ

Application Field
Purpose: suitable for marking and engraving hardware tools, knife tools, kitchenware, plastic products, computer keyboards, integrated circuits, packaging for bottles and cans, glass frames, faucets, and sanitary ware, and other products.
1. Serial numbers and logos on plastic products, electrical enclosures, and other electronics products.
2. Metals and surfaces: stainless steel, copper, aluminum, oxidation, phosphorylation, electroplating, commonly used for the laser marking of hardware, daily necessities, electrical cladding, cell phone shells(e.g.Iphone, Ipad), jewelry(e.g.ring), medical tools, etc.
Application & Materials :
The Fiber Laser Marker can work on all metals such as Stainless Steel, Brass, Copper, etc.
Also some nonmetals such as nylon, light button, ABS, PVC, PES, etc.
Package
Compact the Plywood Case package, keep delivery safe.
Note: This machine should be plugged in when using.