HUDWAY Drive Cameras Set – Side view and Rearview Cameras Set
The side view cameras feature switches so that you will never mistake them while installing them: you can always change whether the camera is left or right.
The backup camera can be mounted on the front if you wish so. It's equipped with parking sensors — when connected to a beeper (enclosed in the installation kit), it will not only give you the visual warnings of how near you to the obstacles, but also alert you with a sound when moving too close. Say, it starts beeping when there's something in the way at 0.5 m (20 in), and at 0.4 m (16 in) you just won't be able to ignore it.
The cameras connect to a video transmitter — and at any moment, you can manually bring the video from any of them to the heads-up display. This can be preset and changed right on the video selector, or using a remote control.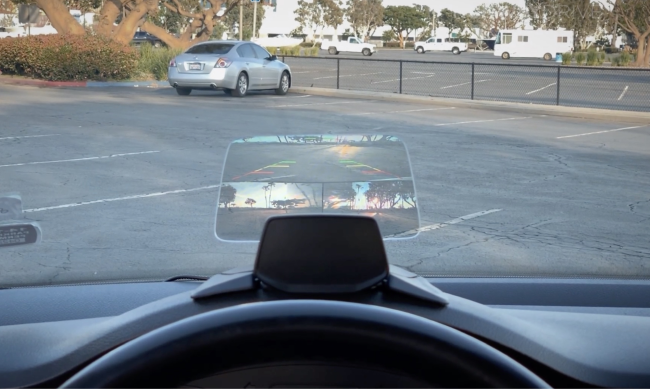 Alternatively, you can automate everything by further connecting a control block: this device connects straight to the vehicle lights (reverse and turn signals) and wirelessly informs the video selector of what you're doing: switching on your left or right blinker, or selecting reverse gear. Triggered this way, the video selector will send the correct video to HUDWAY Drive.
The installation of these three cameras is pretty simple — and once you have carefully hidden all the cables, the cameras will look and work as a built-in solution on any vehicle.
See for yourself (make sure you've enabled subtitles):
With IP 67 (backup camera) and IP 69 (side cameras) waterproof index you never need to worry about weather conditions or whether car wash will damage the cameras — and strong 3M adhesive will keep them in place.
What's in the box
Two side view cameras
Rearview (backup) camera
Video selector unit
Control block
Cables