The 7-inch IPS Capacitive Touch screen offers a resolution of 1024×600 pixels and a smooth 60Hz refresh rate. It is compatible with Raspberry Pi and Windows PC.
Features
High Resolution: The screen boasts a crisp resolution of 1024×600 pixels, ensuring sharp and detailed visuals.
Smooth Refresh Rate: With a 60Hz frequency, the screen provides a smooth and lag-free viewing experience.
Compatibility: It is compatible with the Raspberry Pi series and Windows PC. Portable Design: Designed to be lightweight and portable, the screen can be easily carried and used in various settings.
Multi-purpose Usage: Besides serving as a portable screen for SBC development boards, it can also function as a secondary display for PCs, expanding your workspace. Additionally, it can be incorporated into DIY projects for added functionality.
Accurate Color Reproduction: Thanks to the IPS panel technology, the screen delivers accurate color reproduction, enhancing the visual experience.
Enhanced Contrast: The IPS panel's higher contrast levels ensure deeper blacks and brighter whites, resulting in a more vibrant and dynamic display.
HD Video Performance: The screen showcases vivid colors and lifelike visuals when playing HD video content, offering an immersive viewing experience.
User-Friendly: The screen is designed with user convenience, providing easy setup and intuitive controls for seamless operation.
Durable Build: The screen is built to last with quality materials, ensuring long-term durability and reliability.
Multiple languages: users can easily navigate and adjust settings in their preferred language, which supports English, Chinese, French, Italian, Dutch, Japanese, Korean, and Russian.
Capacitive Touch Screen: A 5V capacitive touch screen offers a responsive, accurate, and intuitive touch experience, making it a popular choice for various electronic devices.
Multi-touch support: A 5V capacitive touch screen can typically support multi-touch input, allowing users to perform gestures like pinch-to-zoom or two-finger scrolling. This feature enables more intuitive and natural interactions with the screen.
High sensitivity and accuracy: Capacitive touch screens are known for their high sensitivity, making them responsive to even the slightest touch. They offer accurate tracking of touch input, allowing for precise control and interaction with on-screen elements.
Smooth and seamless touch experience: Capacitive touch screens provide a smooth and seamless experience due to their ability to detect touch through the insulating layer of a glass or plastic screen. This design eliminates the need for physical pressure and enables effortless touch interactions.
Durability and scratch resistance: Most 5V capacitive touch screens are designed with durable materials like tempered glass, which makes them resistant to scratches and damage. This durability ensures the touch screen can withstand repeated use and maintain responsiveness over time.
Wide compatibility: 5V capacitive touch screens are generally compatible with various devices, including smartphones, tablets, laptops, gaming consoles, and other electronic devices. They can work with different operating systems like Android, iOS, Windows, and more.
Energy efficiency: Capacitive touch screens are known for their energy efficiency. They consume minimal power, which helps to extend the battery life of devices that incorporate them.
Package Includes
1 x 7 inch 1024×600 IPS Capacitive touch screen
2 x Plastic Stander
1 x Full-size HDMI cable
2 x M3 Long screws (For fixing standers)
2 x Rubber feet
2 x Speaker
1 x Full-size HDMI to MicroHMDI convertor
1 x USB cable (USB-C/for touch screen signal transfer)
Additionally, it can serve as a secondary screen for PCs or be utilized in various DIY projects. With its accurate color reproduction and higher contrast than other panel types, the IPS display delivers vivid colors when showcasing HD video sources.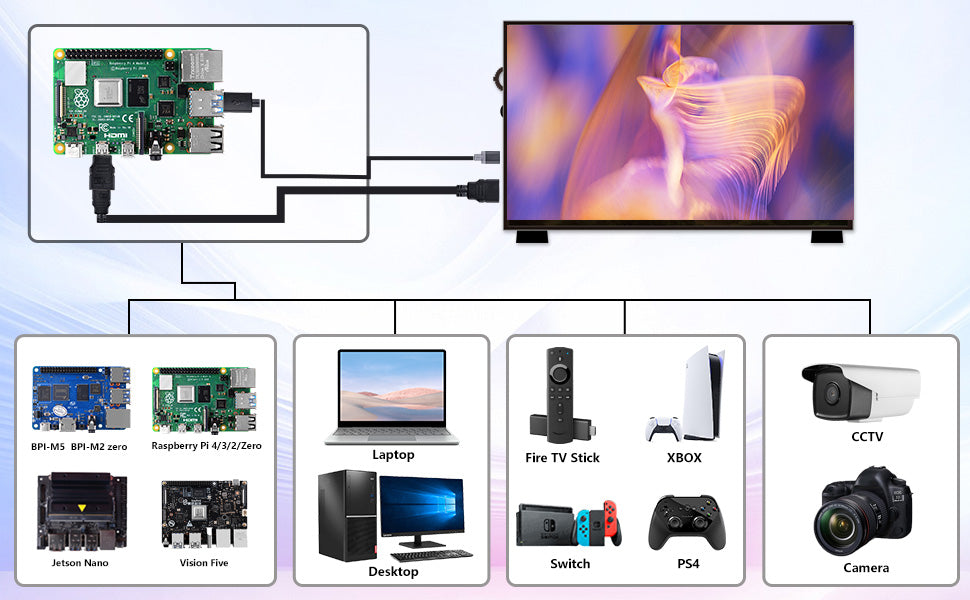 Technical Support: EP-0177 – 52Pi Wiki