myCobot 320 M5- 1kg Payload 6DOF Collaborative Robot Arm
With three main strengths and characteristics of Usability, Security, and economics, myCobot 320 is the cost-effective choice of automated production, can quickly deploy on the production line, and entails human-robot collaboration nearby safety, effectively reducing cost and increasing efficiency for enterprises.
Powerful performance & Equipped with 2 Screens
It can achieve ±0.3mm repeated positioning accuracy with Brushless DC Industrial Motor.
Carries two display screens supporting M5STACK Ecological Application, effectively expanding your collaborative application space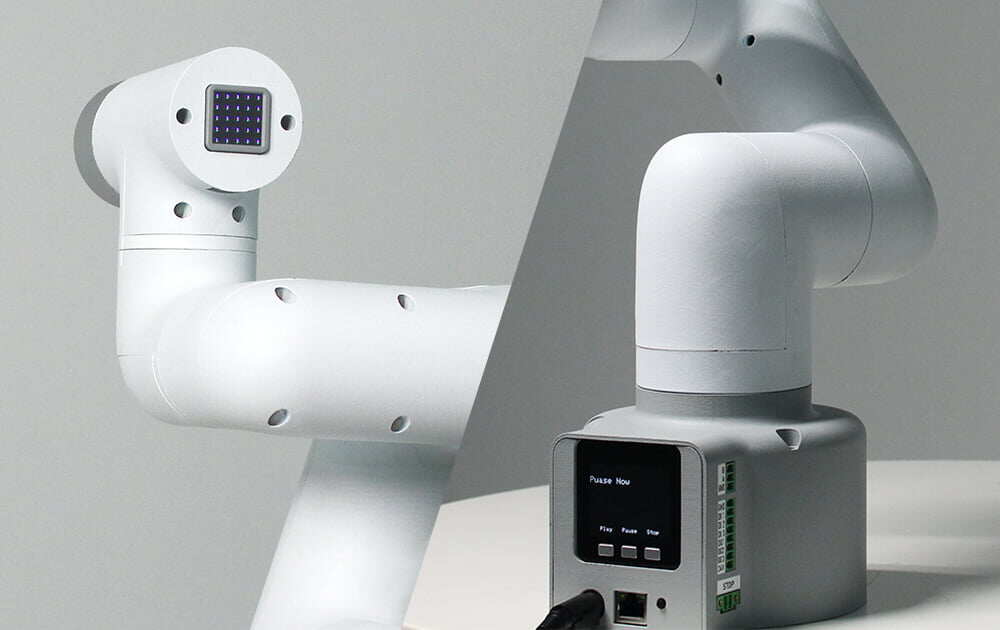 Open Resource, Easy to Operate, and Programming
Operators without programming experience can quickly use the robot through the free move and UIFlow visual programming.
Supports various development environments such as ROS, move it and RoboFlow developed by Elephant Robotics.
Economic and High-Cost Performance
With standard 8-hour work, myCobot 320 is a perfect choice for high-repetitive, standard assembly line work.
As a cost-effective 6-axis commercial robot arm, it is suitable for businesses requiring low cost and high performance to cut costs and boost efficiency.
Integrated Modular Design and Safe Cooperation
The compact design allows it to fully use the production space and perfectly blend into the production environment.
Based on the efficient and exact collision detection algorithm, myCobot 320 can work safely with people.
Specifications
Product
myCobot
Model
myCobot 320
Payload
1kg
Weight
3kg
Reach
320mm
Repeatability
±0.3mm
DOF
6
Joints Range
J1 +/- 170°
J2 +/- 160°
J3 +/- 160°
J4 +/- 160°
J5 +/- 170°
J6 +/- 175°
IP Level
IP42
Material
Industrial Nylon
Working Condition
0~50°C
Power
110~220V AC
Working Range

my studio is a one-stop platform for robots of my robot/myCobot. The main functions of my studio are:
Update the firmware;
Provide video tutorials on how to use the robot;
Provide maintenance and repair information (such as video tutorials, Q&A, etc.).
Warranty: Return service is limited to goods not opened within seven days after the receipt date of logistics of the products. The customer shall bear the freight or other risks incurred in return. During the warranty period of the delivered product, the company only repairs the malfunctions that occur during the regular use of the robot for free. However, the customer will be charged for repairs (even during the warranty period) in the following cases.