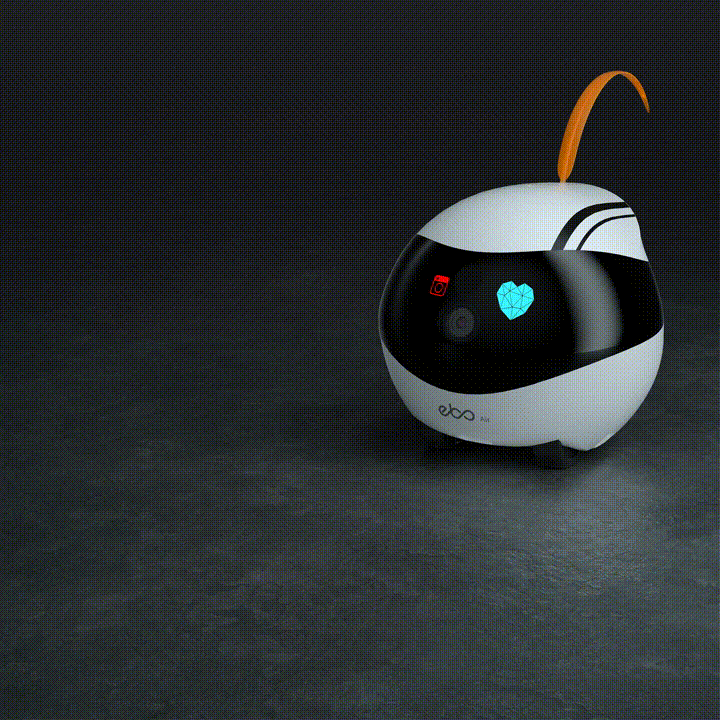 Have you ever thought about getting the dynamics at home and accompanying your family without being personal? Are you worried about the elderly living alone, children at home, and naughty pets? EBO Robot series can quickly meet your needs. This is a security robot that a mobile phone APP can remotely control.
---
EBO AIR, AI-powered Moving Cam For Indoor Security
Wire free | Auto-charging | 1080P | App control | Multi-users | Night vision | 2.4G&5G Wifi
Connect with your home: EBO Robot keeps your family and home secure.
Connect with your children: EBO Robot allows you to check in on your children while away.
Connect with your family: EBO Robot ensures your elderly relatives are safe and well.
Connect with your pets: EBO Robot allows you to play with them and keep them company.
EBO Robot offers the best price-performance ratio among the social companion robots and security cameras. Its affordability, compact design, durable materials, and advanced AI technology make the EBO Robot the best. Moreover, it can move around the house. With EBO Robot, you can check real-time situations in every house corner. You can also use EBO to accompany your family and make interaction. At the same time, you can also set a time for an automatic cruise, and any abnormal situation will be pushed to your phone.
Brand-new EBO Robot
AI technology – Adaptive/auto-trigger
Sensor integration – Camera/position sensor/infrared/distance sensor/microphone
Communication – Wifi/P2P transmission
Tumbler design – Rolling at any angle will eventually return to normal
Anti-dropping – Three-sided TOF, it will stop automatically when it encounters dangling when advancing
Super silent – Brushless motor wheel technology enables the machine to walk silently
Caring for family anytime, anywhere: Whether you are going to work, school, or traveling on business, you can view every corner of the home through EBO's 1080p HD camera, and you may turn on the voice button to chat with family members, play with your pet, and participate in every aspect of your family life.
The unique function of the Air version
AI supports facial recognition
Face Recognition – EBO Robot can recognize the faces of people, cats, and dogs and intelligently follow the selected subject for intelligent interaction.
Automatic shooting – In AI, the EBO Robot can actively capture and shoot video clips related to the selected subject.
Automatic editing – When enough material is collected, EBO Robot can automatically edit two videos of different lengths and share them with you regularly every day.
Anti-dropping – Three-sided TOF will stop automatically when it encounters dangling when advancing.
Automatic recharge, all-day companion
We want to solve your battery anxiety and set up an automatic recharging function for EBO Robot. EBO Robot will return to the charging station when the battery is low. So you don't have to worry about charging EBO Robot every day. What you need to do is turn on the EBO Robot after unpacking.
Automatic patrol and alarm for changes: EBO Robot is a responsible home companion. EBO Robot will come out of the charging pile for home patrols at the set time. The high-performance TOF sensor will prevent the EBO Robot from bumping. The system will automatically detect the abnormally moving objects in EBO's view and notify them through the mobile phone APP.
Video operation
Record video
Instant Voice
Video Editor
Video Sharing
Agenda reminder