myCobot Pi – Raspberry Pi Powered 6 DOF Collaborative Robot
myCobot-Pi six-axis collaborative robot is a multi-functional and lightweight intelligent robotic arm designed & developed by Elephant Robotics. It belongs to the "myCobot series" products and adopts a Raspberry Pi microprocessor. It is one of Elephant Robotics' core robots for the robot and artificial intelligence education ecology.
Unlimited potential with Raspberry Pi ecology
Raspberry Pi 4B, 1.5GHz 4-core microprocessor, running on Debian/Ubuntu platform
Support 4 USB, 2 HDMI, standardized GPIO interface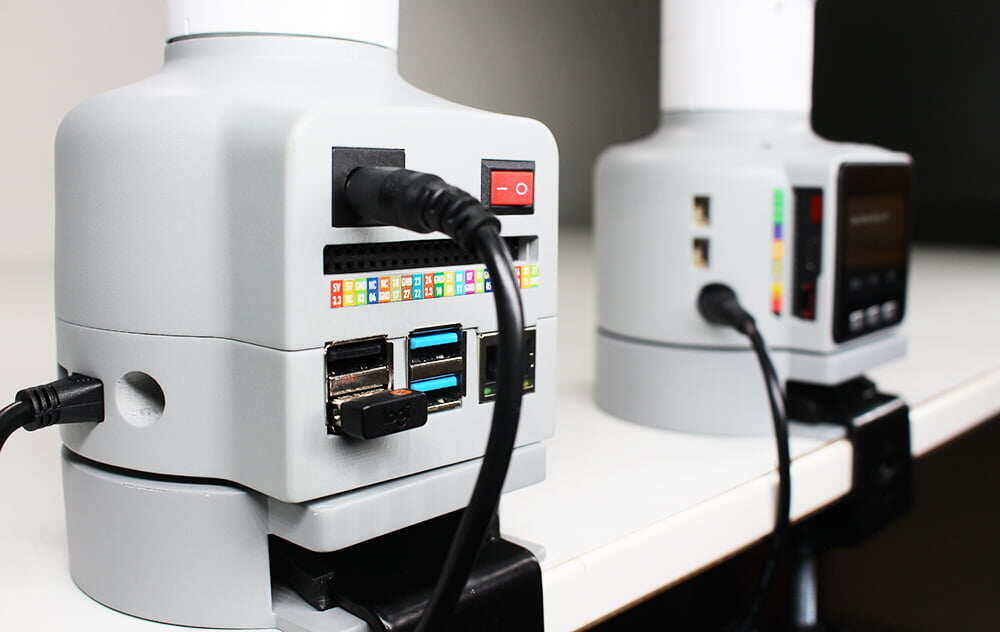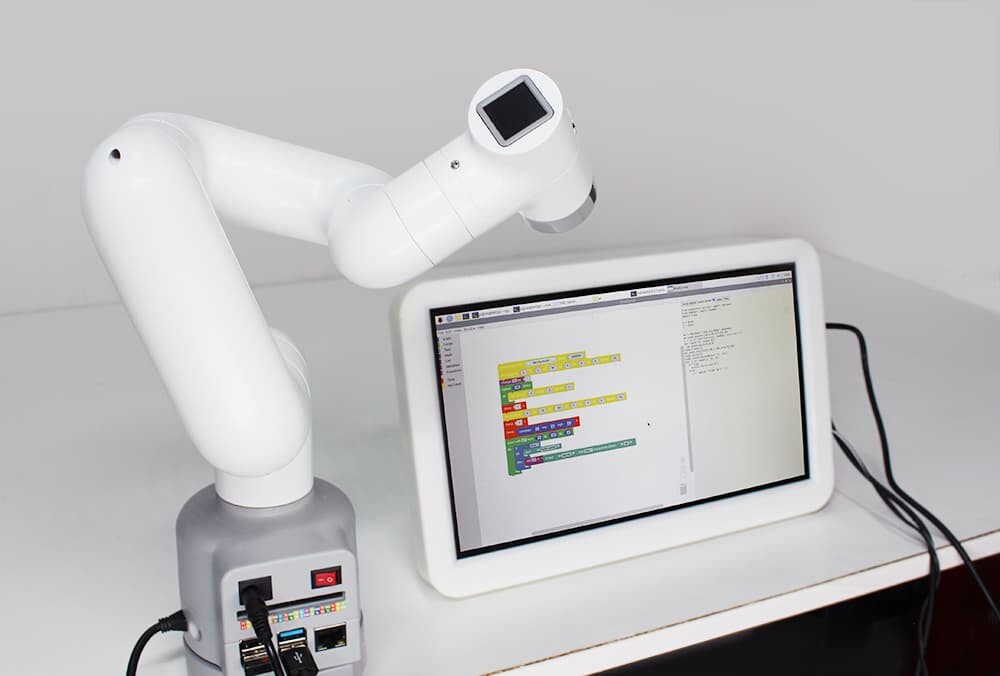 Built-in ROS & Blocky programming
Built-in ROS simulation manipulator operating state, super scalability
blocky visual programming, while supporting general Python software interface
Image recognition with multiple end-effectors
It comes with an image recognition algorithm that can work with a variety of cameras.
Independently match different accessories such as display, gripper suction pump, etc., realizing more application scenarios.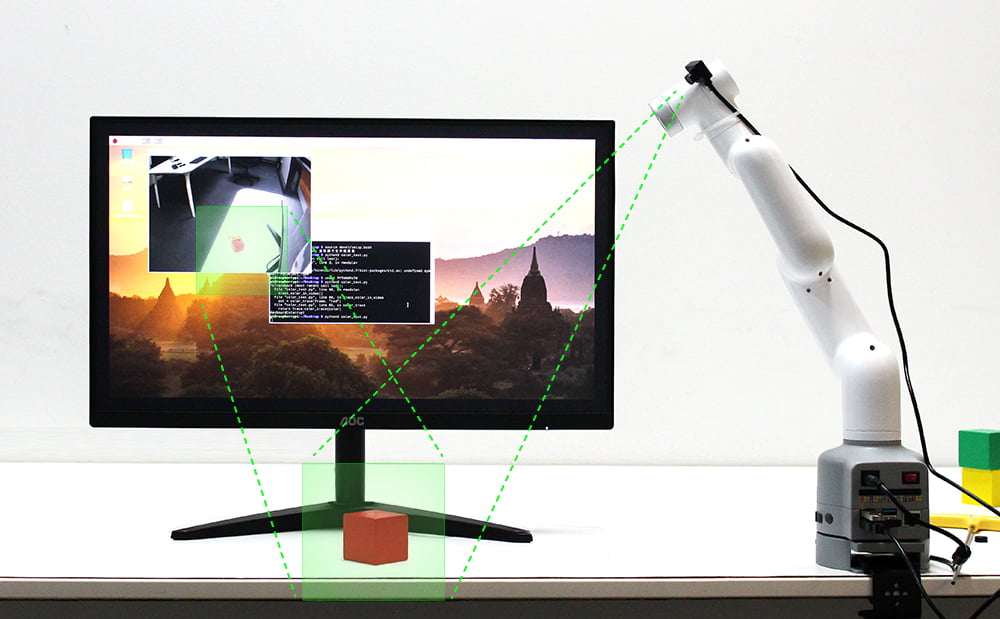 Unique industrial design, extremely compact
Integrated design, the body structure is compact, and the net weight is only 850g, super convenient to carry
Modular design, few spare parts, low maintenance cost, quick disassembly, and replacement, realizing plug and play
High configuration, with Lego interface
It contains 6 high-performance servo motors, fast response, small inertia, smooth rotation
The base and the end are equipped with Lego component interfaces, easier for the development of various micro-embedded equipment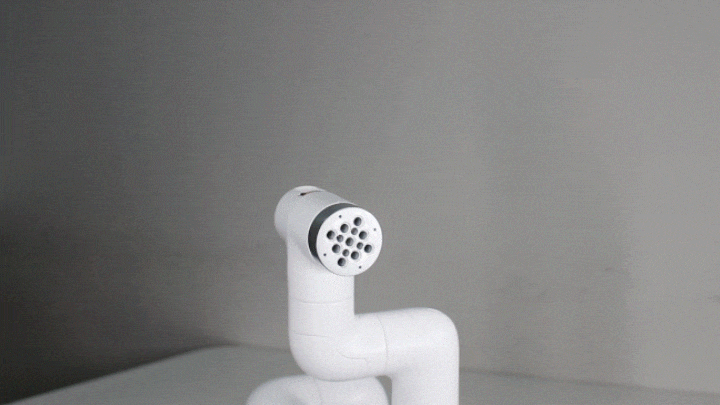 Specifications
| | |
| --- | --- |
| myCobot-Pi | |
| Model | myCobot-Pi |
| DOF | 6 |
| Payload | 250g |
| Working range | 280mm |
| Repeatability | ±0.5mm |
| Weight | 850g |
| Power Input | 8V,5A |
| Working Condition | -5-45℃ |
| Communication | Type-C |
| | |
| --- | --- |
| myCobot-M5STACK Atom | |
| ESP32 | 240MHz dual-core, 600 DMIPS, 520KB SRAM, Wi-Fi, dual-mode Bluetooth |
| Flash | 4MB |
| Power Input | 5V @ 500mA |
| Port | TypeC x 1, GROVE(I2C+I/0+UART) x 1 |
| PIN Interface | G19, G21, G22, G23, G25, G33 |
| RGB LED | WS2812C 2020 x 25 |
| MEMS | MPU6886 |
| IR | Infrared transmission |
| Key | Custom key x 1 |
| Antenna | 2.4G 3D Antenna |
| Working Condition | -5-45℃ |
Working Range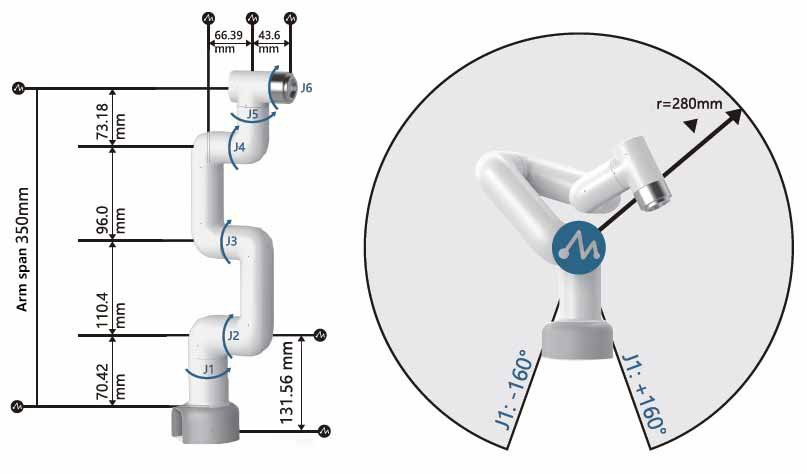 Application
mycobiota is compact but powerful, can not only be matched with a variety of end effectors to adapt to different kinds of application scenarios also support the secondary development of multi-platform software to meet the needs of various scenarios such as scientific research and education, smart home, light industry, and commercial applications.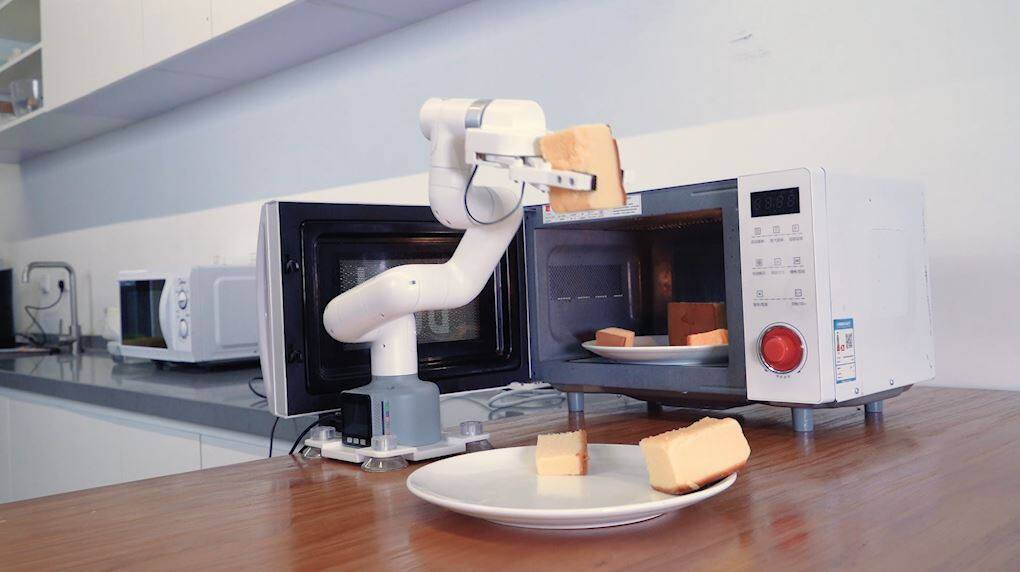 myCobot can take the bread out of the microwave and put it on the plate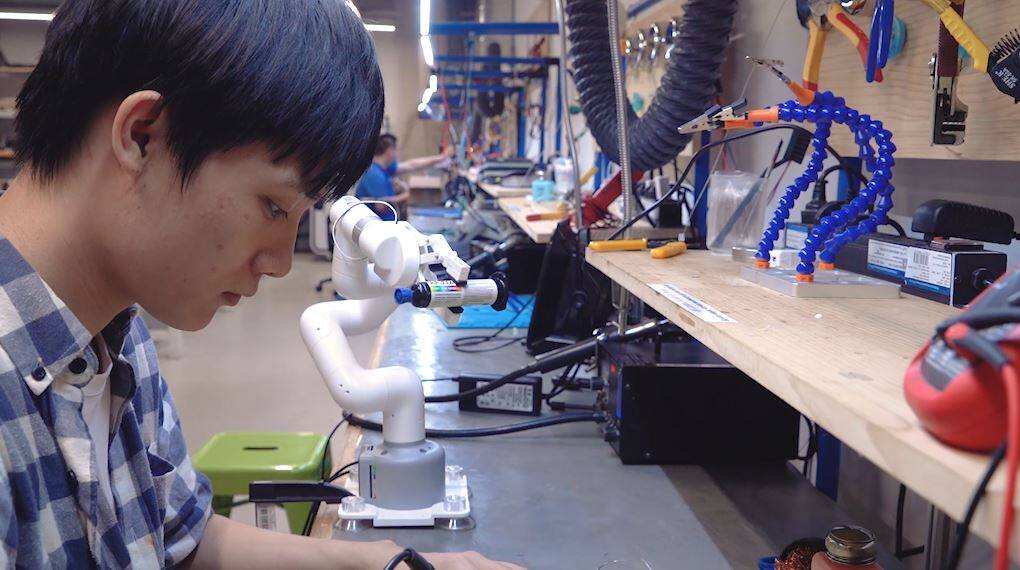 The perfect helper for the studio
myCobot can work as a "third hand" to deliver tools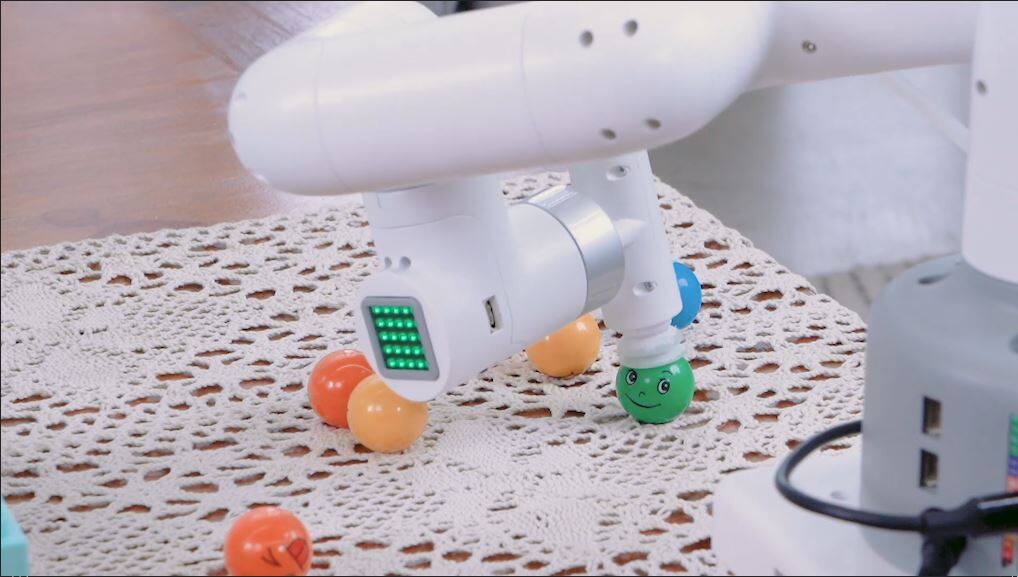 Simulating industrial robot sorting and handling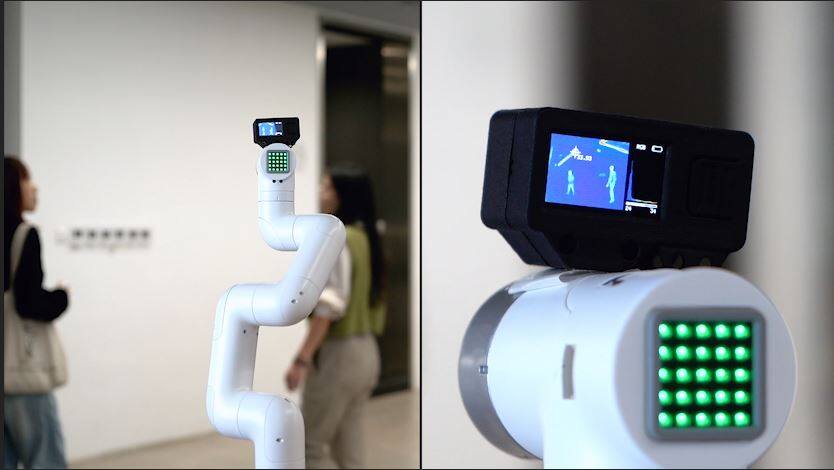 Combined with M5 StickT, an infrared thermal imager, myCobot can sense human body temperature
Partner Institutions

myStudio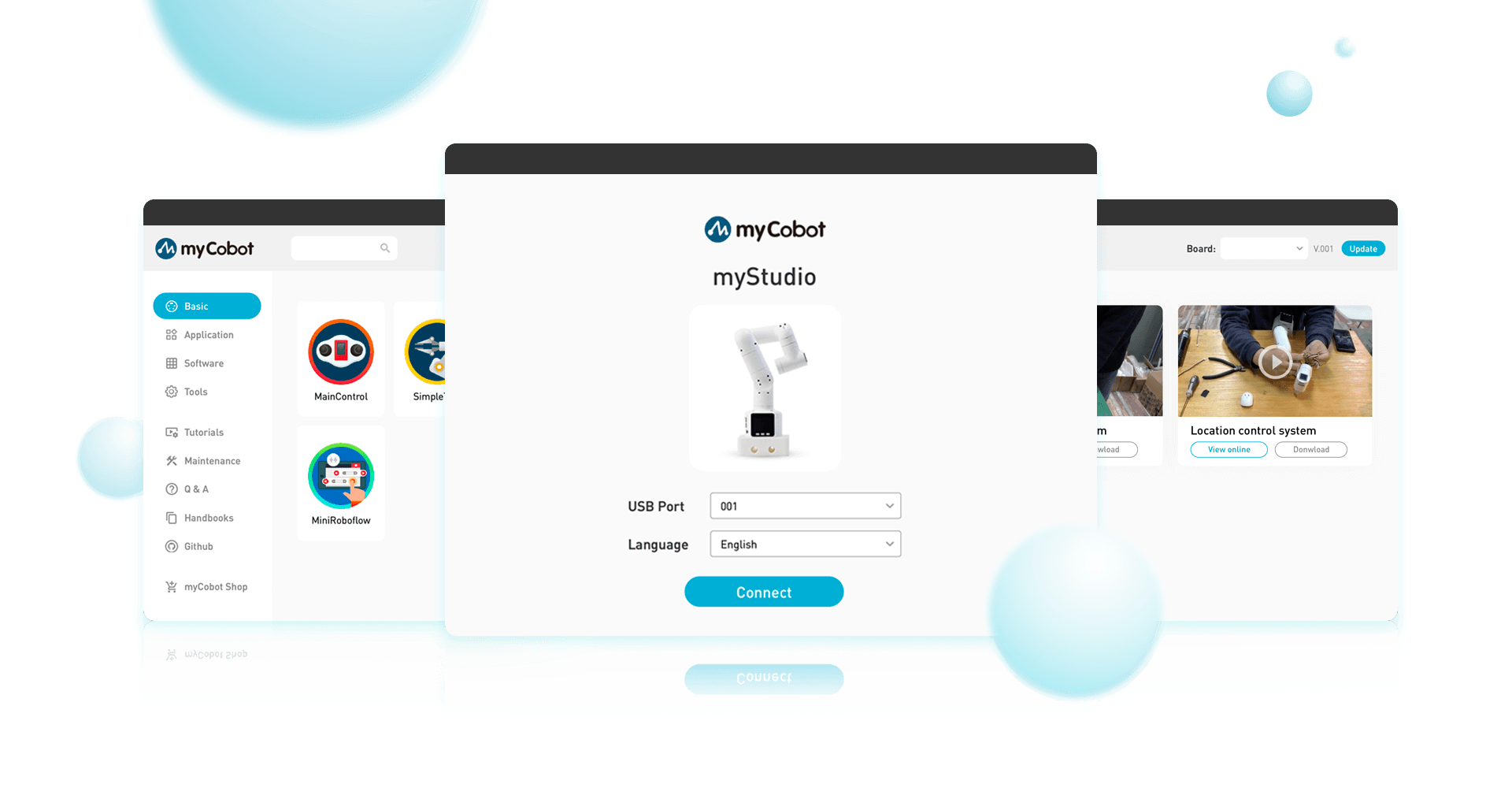 my studio is a one-stop platform for robots of my robot/mycobiota. The main functions of my studio are:
Update the firmware;
Provide video tutorials on how to use the robot;
Provide maintenance and repair information (such as video tutorials, Q&A, etc.).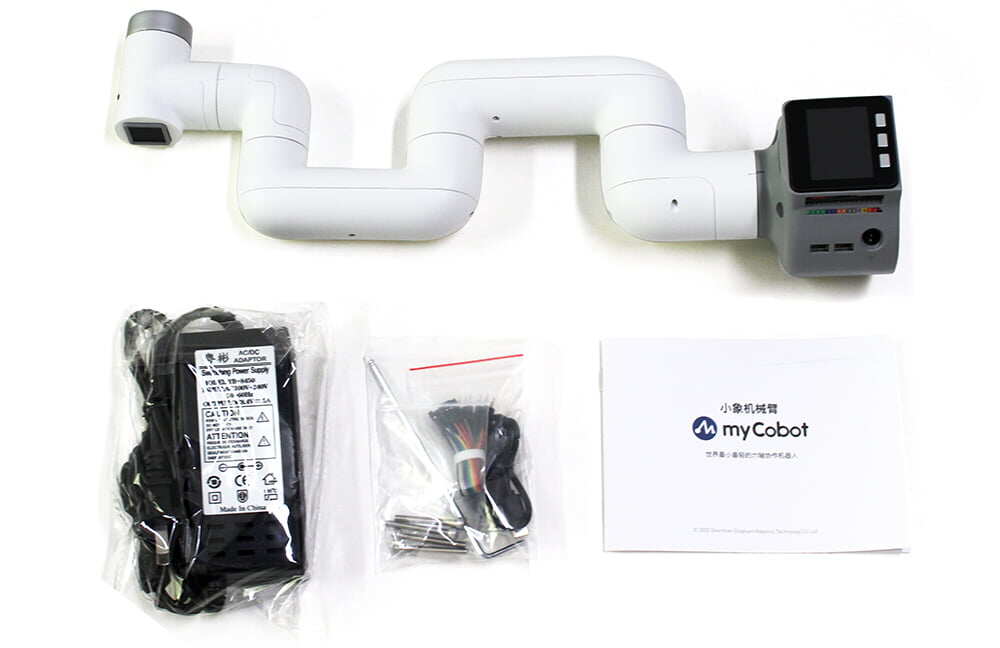 International Express shall deliver the products within 1-2weeks.
Please make sure to enter your shipping information in English to avoid possible existence in international logistics.
Warranty
Return service is limited to goods not opened within 7 days after the receipt date of logistics of the products. The customer shall bear the freight or other risks incurred in return.
Customers should provide the purchasing invoice and warranty card as the warranty certification when a warranty is being asked.
Elephant Robotics will be responsible for the hardware faults of products caused by normal use during the warranty period.
The warranty period starts from the date of purchase or the receipt date of the logistics.
Elephant Robotics will own the faulty parts from the products, and the appropriate cost will be charged if necessary.
If you need to apply for warranty service, please contact our customer service first to confirm the detailed information.
During the warranty period of the delivered product, the company only repairs the malfunctions that occur during the normal use of the robot for free. However, in the following cases, the customer will be charged for repairs (even during the warranty period):
Damage or malfunction caused by incorrect use and improper use different from the contents of the manual.
Failure caused by unauthorized disassembly by the customer.
Damage caused by improper adjustment or unauthorized repairs.
Damage is caused by natural disasters such as earthquakes and floods.
Warranty Terms of Detailed Components
Sever motor
| | |
| --- | --- |
| Warranty Period | Warranty Services |
| ≤1 month | Elephant Robotics offers a free new sever motor and bears the freight. |
| 1-3 months | Elephant Robotics offers a free new sever motor; customs shall bear the freight. |
| ≥3 month | Customers need to buy it themselves. |
Electrical Parts(M5Hardware)
| | |
| --- | --- |
| Warranty Period | Warranty Services |
| ≤3 months | Customers need to send it back after disassembly; Elephant Robotics shall send a new one for free and bear the freight out and home. |
| 3-6 months | Customers need to send it back after disassembly and bear the freight out, and home; Elephant Robotics shall send a new one for free. |
| ≥6 months | Customers need to buy it themselves. |
Structure Parts,incluing shell parts
| | |
| --- | --- |
| Warranty Period | Warranty Services |
| ≤12 months | Elephant Robotics offers free new components; customs shall bear the freight. |
| ≥12 months | Customers need to buy it themselves. |